Since I had trouble achieving a good fit with the
Sew What? Skirts
method of pattern drafting--if you remember, the waistbands always came out too big; see my earlier posts on the
Cotton Candy Skirt
, the
Golden Goddess Skirt
, and the
Sugar Plum Skirt
--I decided to search for some other pattern drafting methods.
1.
Burda Style
: a basic sloper for a fitted, straight skirt, based on your measurements, which you can use as a basis for many skirt patterns. This does
not
include any ease.
2.
Melly Sews
: a basic sloper for a fitted, straight skirt, based on a combination of taking measurements and toile fitting with pins, plus instructions for how to use this sloper to create patterns for different skirt styles.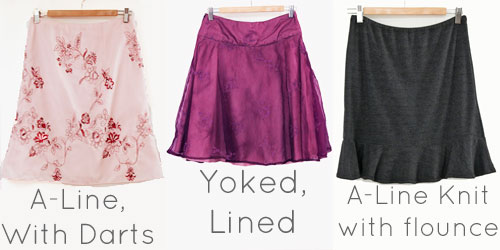 3.
Fashion-era.com
: a basic sloper for a fitted, straight skirt, with ease added at the hip; this tutorial uses a standard waist and dart size that then you have to adjust to your own measurements.
4.
Wkdesigner
: instructions to draft a gored skirt, with your chosen number of gores/seams.
Caveat
: it doesn't seem to tell you how wide the pattern should be at the hemline, but has you simply continue the waist-to-hipline angle to the hem. You may want a different shape. Also, I don't think this pattern will turn out exactly like the skirt shown, which seems to have additional triangular godets inserted between the gored panels, from just below the hip to the hemline. Also, the final shape will depend on how much drape your fabric has.
5.
Sewing Like Mad
: an unusual method for creating a flared A-line skirt with a waistband, plus instructions for creating cool, horizontal, wavy color-blocking. Although she calls it a "half-circle" skirt, it really isn't. The slash and spread pattern manipulation technique will get you a similar result to my
Cotton Candy Skirt
for Little Miss.
It would be an interesting project (after the wedding) to compare and contrast the results of following these tutorials. I am particularly interested in the different ways of handling darts and ease, to find out what works best.
Anyone else interested in a little experiment? We could create three skirts in six weeks--choosing one of the sloper methods from the first three links, plus making the gored skirt and the flared A-line skirt--and compare and contrast results.
Who's in? Leave a comment below, or send me an email.
We could start in November, using wintertime fabrics and linings.
After all, who couldn't use three new skirts in her wardrobe?
Till next time,--Ayana